Workforce management platform for mission critical industries
Modules for 24/7 mission critical workplaces, including Public Safety, Utilities and Manufacturing.
Get Started for Free
or
contact sales
Automate overtime processes with the CallBack module
Automate your complex labor / bargaining agreements for overtime easily with CrewSense. Implement complex rules and workflows, then watch the system follow those rules each and every time and open shift occurs.
Accruals processing, leave requests, sick calls & more.
Eliminate paper trails and centralize your employee's leave requests. Track accrual balances, deduct usage and perform annual vacation bidding with ease.
Real-time two way employee communications with the Alerts Module
Our advanced cloud telecommunication platform allows you to easily broadcast messages in seconds - and receive responses directly within the CrewSense platform. Text Messaging, Phone calls, mobile app 'Push Notifications', Alpha Page or Email…all built into the CrewSense system.
Automate employee Absence 'Call-ins'
Track employee absences and call-offs automatically using our platform. Using either the mobile app or our automated phone system, employees can call in and report their absence. Once received, the absences will be displayed in real time in the dashboard - and effected schedules will be modified.
Vacation Bidding using integrated 'auctions' module.
Days spent making sure that vacation picks are done correctly are now a thing of the past. Just configure some simple rules and let the platform do the work for you.
Mobile apps for constant connectivity
iPhone and Android apps allow you and your employees to have 24/7 connectivity to your Organization operations. Employees can check their schedules, respond to overtime and alerts, submit leave requests, check balances, and more - right from the palm of their hand.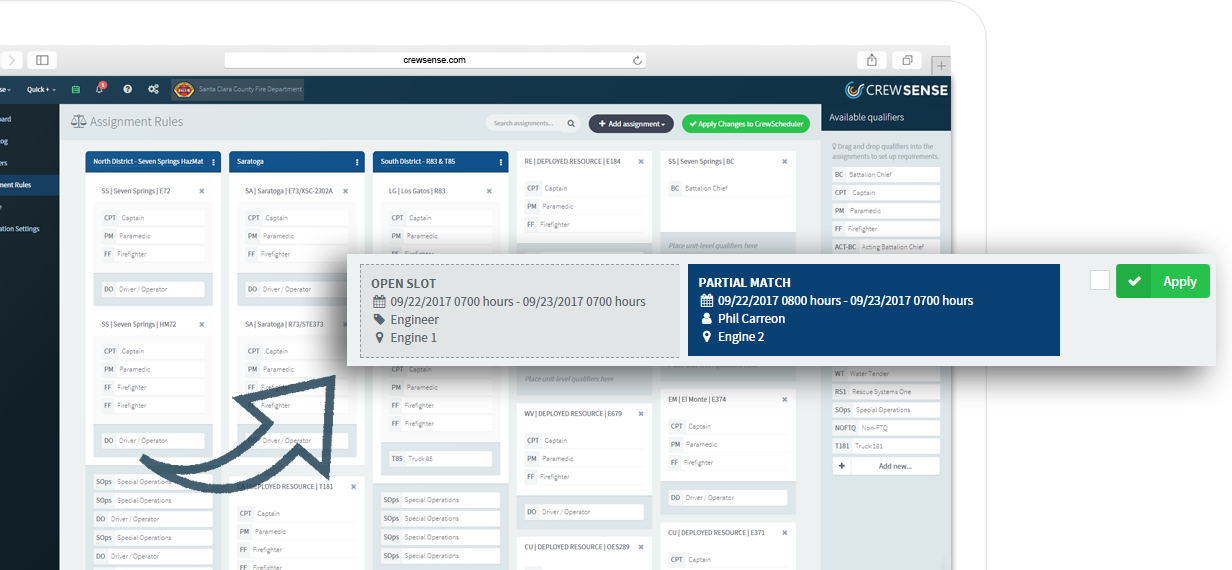 An Intelligent rules-based scheduling algorithm, that works.
Implement rules based scheduling using qualifiers and minimum staffing levels, and watch in real time as the system analyzes the daily schedule for any deficiencies – moving qualified employees automatically to fill voids, or performing a 'CallBack' to fill the open position.
Time & Attendance designed for your industry

Complex shifts require complex Time & Attendance models.

Easily export payroll data via multiple format options, including .csv, .xls, .pdf and payroll summary reports. Manually export data or setup 'jobs' to auto send generated reports to an FTP or DropBox location. Payroll data is also available via our full RESTful API for third-party integrations.
Start using CrewSense now
Create an account or hit us up!
Contact sales
Let's talk about how CrewSense can help your Organization better control labor and scheduling needs.
Please provide your contact information in the form to the right.